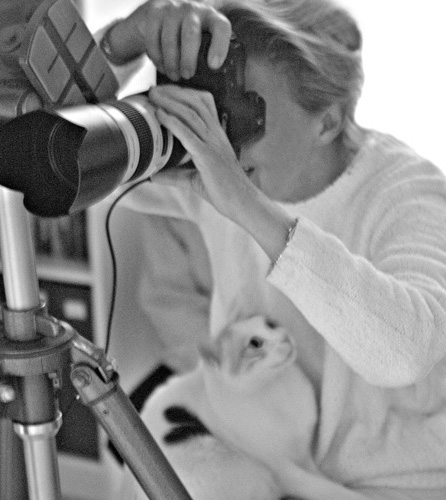 She is a Milanese by birth and a world citizen, a journalist and independent photographer by profession, cosmopolitan because of her education and work. She studied journalism in Milan, languages in Geneva, photography in New York at I.C.P. where she specialized in black and white portraiture under Robert Mapplethorpe's guidance. After having worked for years as fashion editor for Annabella, Rizzoli editor, after doing fashion and portraits, she reported from India China Armenia, from Washington at The White House, from Moscow at the Kremlin, and then from all over the continents: Alaska Mexico Argentina Iran Kashmir Laos Vietnam Taiwan Japan New Zealand Fiji and unforgettable cities Saigon Bombay Damascus Palmyra Izmir Riad Algiers Benghazi Peking Taipei Tokyo Auckland …
Her first book "Portraits" and her exhibition at The Permanente Museum in Milan were born from a very rich portrait collection. Out of a lucky meeting with Maestro Riccardo Muti at Alla Scala Theatre she was given the extraordinary chance of turning music into images. For two years she has been photographing Verdi's operas from the hall during the actual performances. From this extraordinary experience of hers she realized a book "Verdi On Stage"and a great exhibition in Milan, later sent on to New York Washington Boston and Moscow…
Whether her photographs are about faces, gestures or everyday life, something mysterious marks her artistic history: her interest and deep passion for portraying, in her constant search for " the soul behind the glance", as she was counseled to do by Andy Warhol while she was taking his portrait .
Wall Street Journal"..Graziella Vigo is an Interesting photographer, iItalian and contemporary…"

Franco Zeffirelli - Photography as Art
"In the stupendous Graziella Vigo's work, some of the instances of my own itinerary of work and life are documented, and kept magically alive succeeding in their difficult task of avoiding the cold, while still remaining faithful documents: of living their own violent truth in a surprising manner, and practically becoming truer than real life . The event is thus no longer a documentary; it assumes, rather, its own authentic creativity. And Vigo, being the artist that she is, has succeeded in capturing " the telling instant " and rendering it memorable."

Natalia Aspesi - La Repubblica
"Excuse me, may I take your picture?" The inquisitive-looking lady, always dressed in white, holding a camera, would come up to the great director, the famous actor, the temperamental painter, the fashion designer who had been photographed a thousand times. They would scarcely glance at her, just long enough to be drawn to something about her, something that possesses and drives her, a gentle, hidden strength, a serene determination, a mysterious charm you cannot elude. Many of them would like to say no, but they all say yes, captivated by her simplicity, by a secret passion that is the mark of her entire life."
Lanfranco Colombo - Il Diaframma
" A firm journalistic experience comes through her photography, showing itself in her editorial work. Her American experience enriched her with a visual education that clearly defines her sincere and deep professional course. Her care for details, her study, her knowledge and taste for light make a very special portraitist of her. She keeps in sight both the technique of old and the softness of modern portraiture."